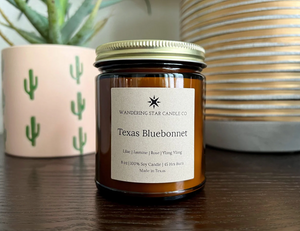 Texas Bluebonnet | Lilac, Jasmine, Rose & Ylang Ylang Soy Candle
Regular price
$24.00
$0.00
Unit price
per
Texas Bluebonnet 8oz. scented candle by Wandering Star Candle Company. Inspired by Texas's beloved state flower the Bluebonnet, this candle evokes memories of driving down country roadsides while admiring rolling fields of purple-blue wild flowers during the spring. Bring Texas pride into your home with scents of floral lilac, jasmine, and rose, accented by complex ylang ylang. Perfect for creating a cozy ambiance in your home or for gifting to friends and family who love Texas Bluebonnets of floral scents.
Scent:
Top: Lilac
Middle: Jasmine, Rose
Base: Ylang Ylang
Our candles are made with 10% fragrance oil, meaning you get the highest available hot throw - the scent will linger long after you extinguish the candle! Burn time is around 45 hours.
Hand-poured in small, artisan batches. Made proudly in Texas.
- 100% soy wax candle in a rustic amber glass jar with a gold metal lid
- 8oz of wax
- Cotton wick (lead and zinc free)
- High-quality phthalate-free fragrance oil
Please follow the candle burning instructions below for the best care:
- Always trim your wick to 1/4" before each use
- Let wax pool reach the jar edge with each use to prevent tunneling
- Burn for 3 to 4 hours per light to prevent overheating the jar
- Keep candle in a fire-safe area away from flammable items, always under close observation
---